Social Media Marketing is the new generation of marketing. Every small and big company is focusing to mark their presence on the various social media platforms. Because of the capacity to reach a larger market space, this new trend of marketing is very much in demand. And one way in which you can optimize the efficiency of social media marketing for your brand content development is by using social media templates. In this article you will get to know about one of the leading online content design tool for their unique designs of logos , Placeit.
Placeit is a very technologically driven design firm where they create creative visual assets like mockups, videos,  and designs of logos for their clients. Their USP is to create user-friendly tools from even the most complicated layout or design. They objectify 3 main goals that they thrive to deliver to their clients creating the most user-friendly designs, providing an array of templates to choose from, and all of this at an affordable price. 
The team of Placeit comprises of people who are extremely creative, enormously skilled, and multidisciplinary in creating designs of logos. The firm is a part of the leading creative giant Envato. Envato has helped millions of clients looking for a creative solution right from the simple set up of a WordPress theme to attaching music to a video. Placeit has a transparent work culture where they believe in clear and open understanding. The Placeit team focuses on result-driven objectives and adheres to the fact that they need to constantly improvise and experiment in order to keep up with the pace of the technology. Manuel Lopez, the CEO of Placeit, believes that the quality of the content should never be compromised with and comes up with plans to multifold the sizes of the content and the engineering team.
Social Media Asset importance for a brand
If you are using any of the social media platforms like Facebook, Twitter, Instagram, etc. then probably it is impossible for you to not have seen any marketing ads. Because social media market is one of the most fastest-growing industries in the world, it is not just important, but also crucial to show the existence of your business through meaningful designs of logos. The average annual growth is said to be 25% over the next 5 years. The market has been so widely spread that not just business organizations, public firms, educational institutions, and state police have also started opening their own social media accounts. The more the number of followers on your brand's social media page, it means that your brand is known to more number of people. Let us look into the significance of social media assets for a  brand.
Increases your brand's awareness
Validates your brand
Increases customer loyalty
How a new brand can save time Using Placeit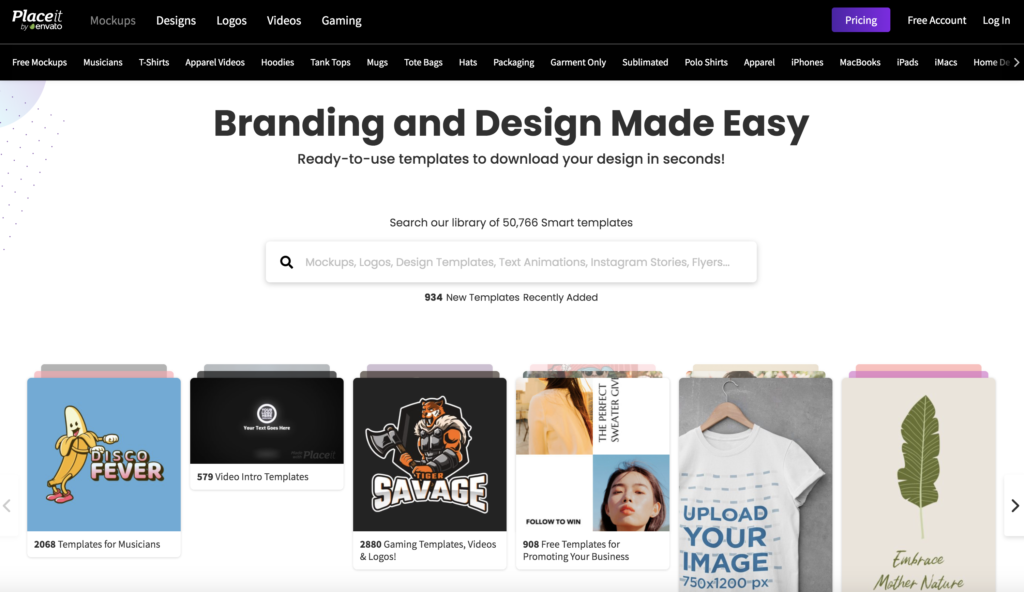 Let us discuss how you can save time using Placeit and utilize it for other operations of your new brand.
It has thousands of professional design templates for you to choose from, thus saving your time that you would have to spend looking for multiple designs on different platforms.
Gives you the unlimited access of choosing from t-shirt designs to banners, social media posts to flyers, and everything in between, again saving your time of juggling through different websites according to your requirements.
It is very user friendly, all you have to do is pick a mockup that you like, upload it, and once done, download it. You don't need to spend time in learning any design skills for these, which saves your time and you can utilize that time in other aspects of your business.
It saves your time in looking for a graphic designer or programmer to hire because you can do all of that yourself just by dragging and dropping without any complicated programming.
Success Story of Christian Heidorn
Christian Heidorn is an entrepreneur who had never imagined that he would be getting into a business one day. He had started his career with a consultancy firm, but when a major financial crisis hit him, he started to work with Spreadshirt to fill his pockets. It was then, that he realized he was quite good at it and planned to take his side-business to a larger scale. And gradually he Because the design was something that he found interesting and he was also well equipped with a few programming languages, he launched his own funny t-shirt brand called "GoCaptain!". He also started The T-shirt  Academy to share his learning experience with those who want to build their own business and guide them the way.
 Christian showed the way to start a business without quitting your job by using the various POD platforms. He shared his experience of using Placeit and how it saved his time, effort, and money as it is very user friendly and also cost-effective.